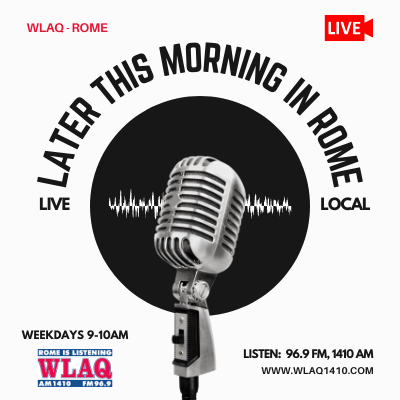 Later This Morning in Rome
This program airs weekdays and is anchored by daily co-host Matt Davis.   Later This Morning in Rome features daily guest hosts in the studio everyday, talking about everything, not just the everyday news cycle stories.  The program focuses on local people and what they are doing to make Rome great.
Daily Guest Host Lineup:  
Monday – Monday Musings with the Counselor – David Guldenschuh 
Tuesday – Monica Sheppard, columnist with RN-T
Wednesday – Kenneth Studdard of Dogwood Books 
Thursday – NWGA Sports LIVE with Ian Griffin of V3
Friday – Joel Thornton, Local Human Rights Attorney 
We also stream the program on Facebook LIVE from the WLAQ – Rome Facebook page. 
Later This Morning in Rome
Weekdays  9 – 10 am